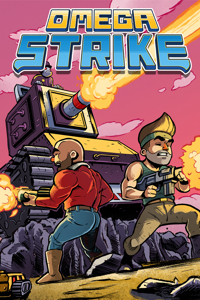 Omega Strike is a Metroidvania game with a huge, open-ended world and multiple playable characters.
As Doctor Omega and his mutant armies march toward world domination, only a few brave freedom fighters stand in his way.
Overcome deadly enemies and learn new abilities for your heroes. Explore the world, find its hidden treasures and upgrade your weapons to defeat Doctor Omega and his evil henchmen.
NOTE: You may pre-download this game, but it will not be playable until the release date/time: 01//2018 – 9:00 PM (check the product page for release date/time in your region).
Pre-order now and save 40% – limited time offer.
Product Info:
Developer: Woblyware
Publisher: Digerati Distribution
Website: Omega Strike
Twitter: @Woblyware / @DigeratiDM