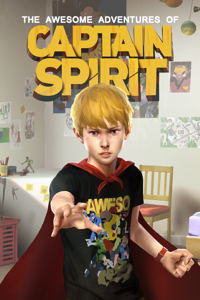 Have you ever dreamt of being a superhero? Meet Chris, a creative and imaginative 10 year old boy who escapes reality with fantastical adventures, as his alter ego – the Awesome Captain Spirit!
Captain Spirit is a free demo set in the Life is Strange Universe that contains links to the brand new story & characters of Life is Strange 2.
NOTE: You may pre-download this game, but it will not be playable until the release date/time: 06/25/2018 (check the product page for release date/time in your region).
Product Info:
Developer: Dontnod Entertainment
Publisher: Square Enix LTD
Website: The Awesome Adventures Of Captain Spirit
Twitter:  @DONTNOD_Ent / @SquareEnix /