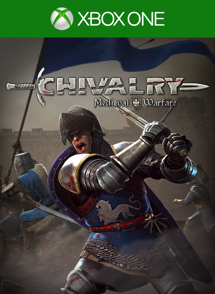 Besiege castles and raid villages in this 24 player online experience. Trade in your guns and grenades to test your mettle against cold hard steel on the medieval battlefield.
Now including over 25 battlefields, up to 24 player online multiplayer, and an all new Horde Mode. Deep melee combat system allows you to wield an arsenal of 60+ brutal weapons ranging from broad swords to longbows.
An internet connection and a connection to Xbox Live are required to play this game.
XBOX ONE GAME EXPECTED TO RELEASE ON 12/02/2015. YOU MAY DOWNLOAD THE GAME FROM XBOX LIVE BEFORE THEN, BUT IT WILL NOT BE PLAYABLE UNTIL 12:01 AM EST ON THE RELEASE DATE.
Check pre-order price and availability in your Xbox LIVE region
Chivalry: Medieval Warfare – This bundle includes the full game.
Chivalry: Medieval Warfare Ultimate Edition – This bundle includes the full game and all four customization DLC packs.