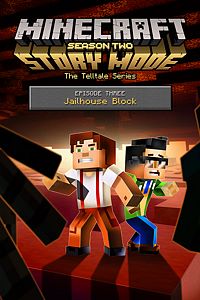 Having bested The Admin's icy obstacles, Jesse and the gang are rewarded with a one-way trip to The Sunshine Institute, a nigh inescapable prison buried at the bottom of the world and filled with all manner of miscreants.
In order to make it back home, Jesse has to find a way to break out, even if that means employing a few desperate measures…
Episode three of a five part episodic game series.
Purchase of this additional content requires Minecraft: Story Mode – Season Two – Episode 1.
Purchase Minecraft: Story Mode – Season Two – Episode 3 for Xbox One from the Xbox Games Store
Purchase Minecraft: Story Mode – Season Two – Season Pass (Episodes 2-5) for Xbox One from the Xbox Games Store
Purchase Minecraft: Story Mode – Season Two – The Complete Season (Episodes 1-5) for Xbox One
---
Purchase Minecraft: Story Mode – Season Two – Episode 3 for Xbox 360 from the Xbox Games Store
Purchase Minecraft: Story Mode – Season Two – Individual episodes or bundles for Xbox 360 from the Xbox Games Store
Product Info:
Developer: Telltale Games
Publisher: Telltale Games
Website: Minecraft: Story Mode – Season Two
Twitter: @telltalegames