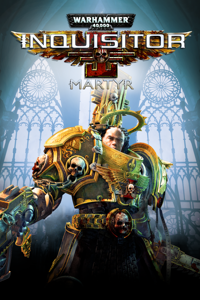 You are an Inquisitor, the Imperium's most powerful agent. In this Action-RPG developed by the creators of The Incredible Adventures of Van Helsing, search closely in the fortress-monastery, Martyr, and purge it of the Chaos lurking behinds is walls.
Conduct your investigation on a large number of planets in the Caligari sector and take on hordes of enemies on a variety of terrain.
Launch yourself into combat with brutal and tactical assaults: use the cover system, destructible environments, controllable towers and vehicles to your advantage.
NOTE: You may pre-download this game, but it will not be playable until the release date/time: 06/06/2018 – 1:00 AM (check the product page for release date/time in your region).
Product Info:
Developer: NeocoreGames
Publisher: Bigben Interactive
Website: Warhammer 40,000: Inquisitor – Martyr
Twitter: @NeocoreGames / @bigbeninteract / @40k_Inquisitor