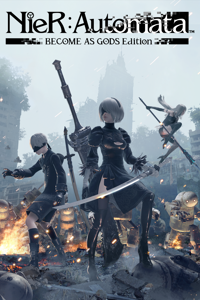 Invaders from another world attack without warning – unleashing the machine lifeforms.
To break the deadlock, a new breed of android infantry is sent into the fray: the YoRHa squad.
Highly-acclaimed and award winning NieR:Automata™ is a fresh take on the action role-playing game (RPG) genre that gracefully blends mesmerizing action with a captivating story.
NOTE: You may pre-download this game, but it will not be playable until the release date/time: 06/26/2018 (check the product page for release date/time in your region).
Product Info:
Developer: PlatinumGames
Publisher: Square Enix LTD
Website: NieR:Automata BECOME AS GODS Edition
Twitter: @platinumgames / @SquareEnix / @NieRGame