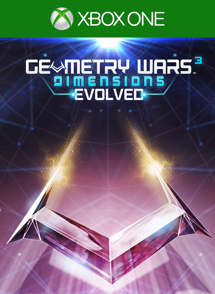 Evolved includes all of the great content & features from Geometry Wars 3: Dimensions and more. Over 100 total levels including 40 all-new levels.
Classic mode has reimagined versions of 6 levels from Geometry Wars: Retro Evolved and Retro Evolved 2. 15 3D grids including 5 all-new and 12 battle modes including Pacifism, King, Claustrophobia and 4 all-new modes. 5 unique companion drones including Attack, Collector, Ram, Snipe and the all-new Sweep drone. Cooperative and Online Competitive Multiplayer modes complete with community and friend leaderboards.
Check price and availability in your Xbox LIVE region
Purchase Geometry Wars 3: Dimensions Evolved for Xbox One from Xbox Games Store
Product Info:
Developer: Lucid Games Ltd.
Publisher: Sierra
Website: Geometry Wars 3: Dimensions Evolved
Twitter: @GeometryWars
The post Geometry Wars 3: Dimensions Evolved is Now Available for Xbox One appeared first on Xbox Live's Major Nelson.