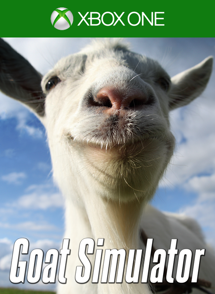 Goat Simulator is the latest in goat simulation technology, bringing next-gen goat simulation to YOU. You no longer have to fantasize about being a goat, your dreams have finally come true!
Gameplay-wise, Goat Simulator is all about causing as much destruction as you possibly can as a goat. It has been compared to an old-school skating game, except instead of being a skater, you're a goat, and instead of doing tricks, you wreck stuff.
Check price and availability in your Xbox LIVE region
Purchase Goat Simulator for Xbox One from Xbox Games Store
Purchase Goat Simulator for Xbox 360 from Xbox Games Store (Coming Soon)
Product Info:
Developer: Double Eleven Limited
Publisher: Double Eleven Limited
Website: http://www.goat-simulator.com/
Twitter: @DoubleElevenLtd
The post Goat Simulator is Now Available for Xbox appeared first on Xbox Live's Major Nelson.