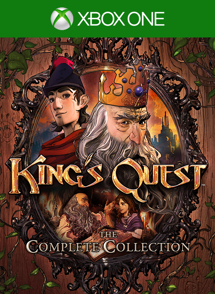 King's Quest is a collection of five different chapter releases, each focusing on an untold tale in Graham's past.
In each chapter, an aging King Graham reflects on his life of adventure with his granddaughter, Gwendolyn, while players are transported back to influence first-hand the decisions and events that shaped a kingdom.
Chapters can be downloaded from in-game upon individual release throughout 2015 and 2016.
King's Quest: The Complete Collection – includes Chapter 1: A Knight to Remember, the Season Pass (which gives you access to Chapters 2-5) and an additional story epilogue exclusive to The Complete Collection.
XBOX ONE GAME EXPECTED TO RELEASE ON 7/28/2015. YOU MAY DOWNLOAD THE GAME FROM XBOX LIVE BEFORE THEN, BUT IT WILL NOT BE PLAYABLE UNTIL 5:01 PM PDT / 8:01 PM EDT ON THE RELEASE DATE. Once purchase is complete, download this game by selecting the "Manage" button on the product details page on your console.
Check pre-order price and availability in your Xbox LIVE region
Xbox One Pre-Order FAQ