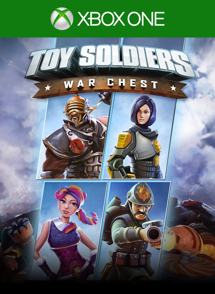 Take turns protecting your toy box and preparing waves of different enemies for the best attack.
If you would rather join up with your bestie and take on other teams of toys in the new 2v2 mode, plan a playdate! Cooperative and Couch Play Team up with a friend to play any of the main campaign, weekly war, survival, or multiplayer maps together! You can play split screen on the same console or invite your friends and play online.
Check price and availability in your Xbox LIVE region
Purchase Toy Soldiers: War Chest for Xbox One from the Xbox Games Store
Purchase Toy Soldiers War Chest: Hall of Fame Edition from the Xbox Games Store – includes Toy Soldiers: War Chest and the G.I. Joe Pack, Masters of the Universe Pack, Cobra Pack and the Assassin's Creed Pack.
Product Info:
Developer: Signal Studios
Publisher: Ubisoft
Website: Toy Soldiers
Twitter: @Signal_Studios